Live Captioning Services for Colleges and Universities
"I wanted to send a BIG thank you for everything you did to make Commencement and the Friday ceremonies go so smoothly. I know we had to work through several kinks, but I truly appreciate your patience and support. You were all wonderful to work with and we were very pleased."
- Emily Ferris, Associate Director, University of Mississippi
Archive Captioning offers a complete suite of live captioning and transcription services to colleges and universities. Our experienced and knowledgeable captioners can accurately caption your classes, special events, lectures and commencement ceremonies. Our first-rate support staff and easy to use caption streaming technology makes events easy to set up. See why dozens of colleges and universities around the country trust their live captioning and transcription requirements to Archive.
Live Captioning in the Classroom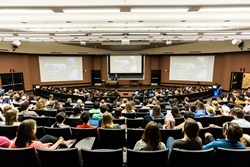 CART and Remote CART Services: Archive is a leading provider of CART and Remote CART services at all levels of study. Our skilled and experienced captioners can keep up with even the fastest talking professor. We use state-of-the-art technology to stream captioned text directly to the student's laptop in real time. It's easy to use and simple to set up, allowing students to fully participate in classroom discussions by providing a complete, verbatim transcript of the discussion in real-time. Learn more about Remote CART services.
TypeWell/C-Print: Archive uses 1CapApp, the leading remote CART software available. It allows students to see exactly what is being said in real time on a laptop, iPad or other connected device. In addition, students can take notes directly on the screen and even send themselves a transcript of the lecture immediately following the class. Learn more about TypeWell services.
Live Captioning for Commencement Ceremonies

Archive captions over 50 graduation ceremonies every year, from 500 graduates to 10,000 and everything in between so we've seen it all. It takes a strong team to handle the pressure of such an important event. And captioning is not just for the deaf and hard of hearing. With families coming from all over the world, captioning can help family members for whom English not their first language feel like they're part of the ceremony.
This email address is being protected from spambots. You need JavaScript enabled to view it. for more information on live captioning for your commencement service.
A few of our long time clients:
Live Captioning for Special Events
Live captioning from Archive can help make your special event more accessibile. With our state-of-the-art caption streaming platform, we can project captions to a screen or monitor, overlay them on a PowerPoint or stream them to your attendees mobile devices, all at a very cost effective price. Our knowledgeable support staff will work closely with your staff to make sure captions for your event are easy and straightforward. Learn more about Live Captioning for Special Events.