CART & Remote CART Services
Communication Access Realtime Translation (CART) offers immediate, verbatim, streaming voice-to-text translation at events, conferences, classes, public hearings and other events. CART/remote CART provides access to these events for deaf and hard of hearing viewers, those for whom English is not their primary language or other attendees who might have difficulty hearing.

Captions can be presented to a single participant on a mobile device, tablet or laptop or on a large screen via a projector for the whole audience.
---
Flexible solutions for a variety of settings:
Remote CART can be successfully utilized in many settings:
Classrooms. Streaming text appears on the student's laptop or mobile device so its discreet and not disruptive to the learning environment. Students can take notes and highlight text right in the application. Transcripts of the session are available immediately and can be stored indefinitely for review.
Meetings and presentations. Our state-of-the-art software allows ARC to caption meetings and presentations without renting an expensive encoder! We can overlay captions into videos and PowerPoints as well as WebEx meetings. A complete, verbatim transcript can be provided at the conclusion of the meeting.
Conference calls. View streaming text of a conference call on a mobile device or tablet. Many of our clients are Fortune 500 companies that require a discreet and flexible way to provide employees with access to the spoken word.
---
How does remote CART work?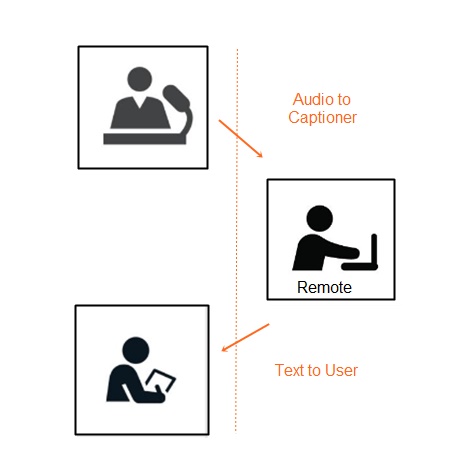 Remote CART is very simple to use. First, we need to hear what's being said in the classroom or meeting room. This can be done using a Skype session, webinar or a conference line.
Our experienced real-time captioners will "translate" the audio to text in real time using a stenography machine. The text is securely streamed over the internet to a web-enabled computer, laptop, tablet or smartphone where it can be viewed discretely in real time.
As the audio is being captioned, it is displayed in real time in a browser window on a PC, laptop, smartphone or other web-enabled device. Our fully configurable viewing window allows users to format their captioned text for optimum viewing. Users can also take notes and communicate with their captioner in the built-in chat window!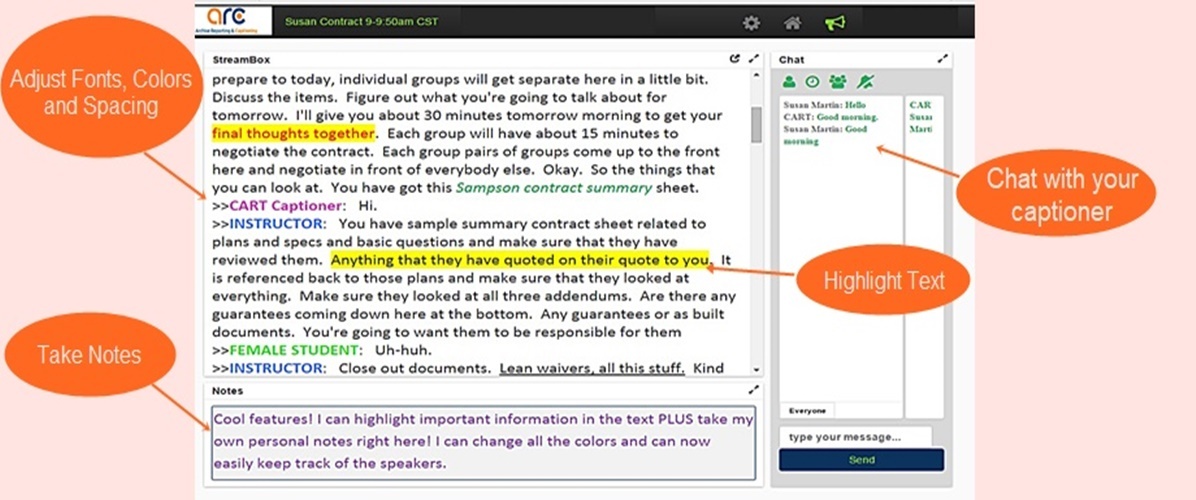 Have more questions about CART or remote CART? Visit our Remote CART FAQ's
---
Not sure what services you need?
Call us today at 800-870-1795 or This email address is being protected from spambots. You need JavaScript enabled to view it.and our knowledgeable staff will help you pick the right services for your needs.