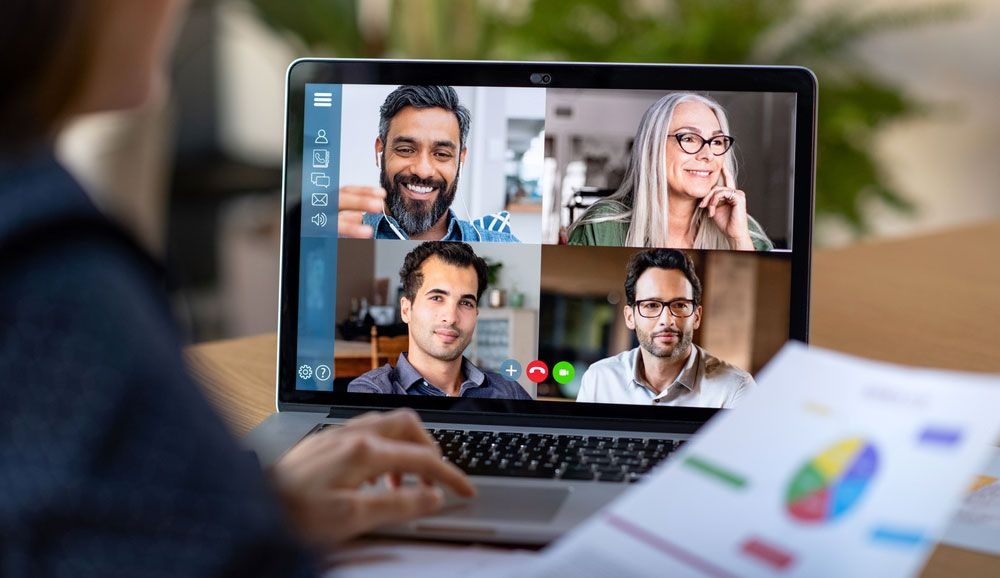 Closed captions are no longer used only as an accessibility tool. Closed captions have been shown to increase audience engagement, information retention, and cater to the diverse lifestyles of your attendees and audiences. The transcripts created during the captioniing process can even boost your SEO results.
If you want to maximize the reach and ROI of your online content, meetings, and events in today's online environment, you need to be using captions.
Why Use Captions For Your Meetings?
We're holding and attending online meetings more than ever before. Flexible working environments have been found to be more conducive to professional engagement and productivity, resulting in happier, more fulfilled employees. Flexible meetings – meetings that can be attended on-the-go or while multitasking – are a huge part of creating this environment.
Captioning your online meetings – whether on Zoom, Teams or other platforms – gives you the ability to meet all of your professional contacts and employees where they are, whatever they are doing. If they are commuting, working in a noisy (or quiet) environment or if they forgot their headphones, they can still follow the meeting and engage with your content.
Boost information retention
Captions have been found to improve comprehension and information retention. By having a text-based version of the conversation or meeting, viewers are better able to commit the content to memory and reference the information later.
This is especially useful for any high-value meetings or those that require specific information to be recalled later.
Make your meeting accessible to everyone
Of course, one of the most important functions of closed captions is that they make your meeting accessible and inclusive. Captioning makes your meeting accessible for people who are Deaf or hard-of-hearing, and also those who are watching in their non-native language.
Why Use Captions For Your Content
People consume content in a different way now than even several years ago. Companies including Facebook have publicized data showing that the majority of audiences watch videos with the sound off – in fact, the figure is 85 per cent!
The main reason more people watch videos without sound now is because – just like in the meetings, above – they want the content they consume to meet them where they are rather than having to adapt to the delivery of the content. Everyone's lives are busy and a lot of different content is competing for our attention. If a video or stream doesn't have closed captions, it's more difficult to access in different environments (for example, on a noisy train or in a quiet room).
This makes it easy to ignore, especially when your content is competing with other companies and media outlets who do caption their content. This is especially true for D/deaf and hard-of-hearing audiences, many of whom simply do not have access to your content at all without captions.
If your video or stream does have captions, the audience can watch no matter where they are or what they're doing – which is exactly what today's viewers expect.
Reach more people and increase watch times
Because they make for more watchable content (as above), closed captions have been found to boost the number of people that engage with your online content.
They also increase the length of time that audiences watch for. 80 per cent of people are more likely to watch an entire video when captions are available, instead of just watching the beginning or skipping through. These longer viewing times help you get your entire message across, and they make your content perform better on search engines.
Finally, You Can Maximize your SEO with transcripts
Transcripts are an inclusion product of captioning your content. They are made available at the end of the captioning process, if the captioning is done professionally.
One great advantage of having a transcript of your content is that it enables a video or stream to be found by search engines, including Google, through Search Engine Optimization (SEO). Search engines can't watch or listen to a video and index the content, but they do index text – transcripts. Therefore, whenever you caption, you should make your video transcript or highlights publicly available so you will rank higher, leading to more views and exposure for your content.
Not sure what you need?
Reach out to one of the knowledgable team here at Archive Captioning. We'll be happy to go through the options and provide you a estimate of the costs involved. It's often a lot less than you would expect!